Go is the Leafé Knight of fire.
Go is the Knight of fire and works as a waiter. In the anime he is in charge of the younger Leafé Knight, Mannen, Hajime, and Shin.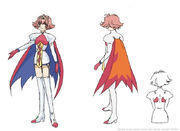 Adopting a tough-guy technique, Go is typically the one assigning the younger members tasks and threatening them for any misdeeds. He often uses reverse psychology as a tactic to get Mannen to do what he wants. When Himeno Awayuki assumes Go's power, she becomes the Prétear of Fire and can utilize the Fire Axe.
Go's star sign is Leo.
Go's favorite drink is Hot Chocolate with milk.
Go's Blood Type is: O