At the start of the series, Himeno Awayuki is a normal 16 year-old girl whose father, a writer, had just gotten married to the richest woman in Japan. Himeno's best friends is a young girl by the name of Yayoi Takato.
A través del matrimonio de su padre, Himeno ganó dos nuevas hermanastras: Mawata Awayuki y Mayuni Awayuki , pero no sentía que encajara o perteneciera a su nueva familia, ahí es cuando conoce a los Leafé Knights . Aunque inicialmente se mostró reacio a asumir el papel de Prétear , finalmente acepta sus nuevos poderes y habilidades, y gana la confianza y las amistades entre cada uno de los caballeros. Más tarde ella comienza a desarrollar sentimientos por el Leafe Knight Hayatea pesar de que trata de distanciarse de ella. A medida que avanza la historia, los sentimientos de Hayate hacia Himeno y viceversa se vuelven más evidentes. Himeno se convierte en el legendario Pretear Blanco, resucita a Sasame y destruye el Gran Árbol de Fenrir.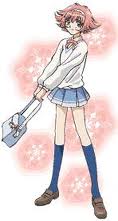 Powers and AbilitiesEdit
Como el Prétear, Himeno tiene la habilidad de jugar con el otro caballero, y puede usar sus poderes para derrotar a las Larvas Demonianas . Inicialmente, ella solo puede preet con los otros siete Leafe Knights. Pero a medida que la serie progresa, ella puede transformarse en el legendario preter blanco .
Himeno's favorite drink is apple-flavored tea.
Himeno's birthday is on July 9th
Himeno's star sign is the constellation Cancer.
Himeno is called a tulip's head, Because her hair is like a head down tulip.